In June 2013, M. D. is invited by YATOO organization at the Nature Art Residence in Wongol, South Korea.
In order to properly answer the residence art and nature fundamental statements, he carefully checks the documents and catalogs of previous Wongol residences. He noticed that these books are mainly composed of texts and pictures of artists standing in specific natural surroundings. Taking these images as potential residence realizations, the artist begins to film himself in the surroundings, trying to recreate the attitudes and understand their process.
Performing these gestures for one month, he recorded the various poses and was pleased. He even slowly rediscovered remains of two previous artworks he realized many years prior, during YATOO's 2004 and 2006 biannuals (Mul Gil and Network).
The artist is confident that he is progressing in his understanding of nature and art YATOO's concepts. The video becoming a YATOO artist is the result of his investigation and his involvement. The video has been presented in Wongol's exhibition space and in Mr Jo Dong-Chan's residence at 140 Wongolyesul-gil, Sinpung-myeon.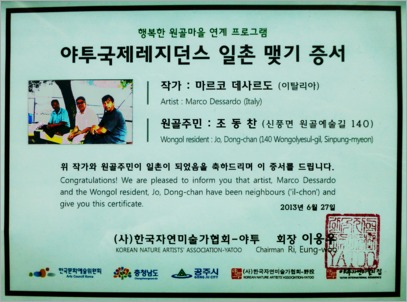 During the same project in Wongul, the artist installed 4 bamboo gargoyles to keep the rain waters away from the building's walls so that to drop onto a table. This is a remake of the 2004th Mul Gil constructed for the 2004th YATOO's biannual.