Waterloop (Flevoland, The Netherlands -&nbsp2008) 30 m, zinc, plastic, stones, water
Can art change the climate?
With this question, seventeen international artists were sent into the Waterloopbos, an almost exotic forest in the Netherlands. In this former open air laboratory, where for decades hydraulic engineers dealt with water in a technical way, Kielzog organization asks for artist imagination. Amongst overgrown sluices, harbours and river courses, the artists worked on site. A new vision of the ancestral Dutch battle against the water.
The artist have built their artwork in the ruins of the scale models of the former Hydrodynamic Laboratory.
Description of the created sculpture: an immersed water channel running trough the ruins of the scale model of the port of Rotterdam modifies and inverts the waterflow.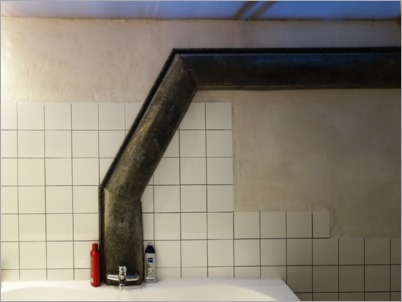 And seven yerars later, in the bathroom of the organiser.