A sculpture executed during a residence in I-Park, Connecticut, USA.
A site specific sculpture and a video, fabricated exclusively with materials found in the surroundings.
This sculpture consists of a system of traces of a recent settlement in I-Park. The site is near a meadow and near it you will find the marks left by somebody who had dwelled there. Whether the individual is an imaginary person or the artist himself, no one really knows.
This tenant, whomever it is, has organized the space and many signs remain: accumulation of wood, trampled grass, cut branches, footprints, a canoe, a clothesline, an unidentifiable machinery, a place to sit... Gathering and analyzing these traces one can try to reconstruct the individual's way of living, his intentions. He is an engineering version of Henry David Thoreau.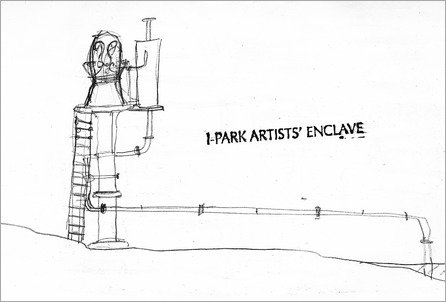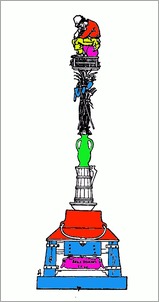 3 m x 7 m x 20 m, iron, a canoe and three blue jeans.
East Haddam, Connecticut, USA.